Published on

June 22, 2022
French-based plugin developer BLEASS celebrates la Fête de la Music with a free plugin for everyone!
On June 21st, to celebrate la "Fête de la Music" (World Music Day), BLEASS released a FREE synth plugin called Monolit which is available on macOS, Windows, and iOS (AUv3).
Keep reading this article to find out how to download it for free!
What is BLEASS Monolit?
Monolit is a free VST instrument plugin developed by BLEASS, a French-based plugin developer. It runs as a VST3, AU, and AAX on macOS and Windows. It is also available for free on iOS with AUv3 support.
This virtual instrument plugin is a monophonic synthesizer made by combining the rich analogue sound of BLEASS Alpha with the creative expressiveness of BLEASS Omega.
With this efficient mono-synth you will have a lot of fun sound designing basses, leads, sparkling arpeggios and SFX.
I just installed it on my PC to test it out. I have to say that I'm impressed by this little plugin.
I didn't expect such quality sounds from a free plugin, also it is so light.
In fact the installation required only 41 MB for all formats AU, VST3 and AAX, but if you install only one format it will take only 13.7 MB.
Honestly, there is no reason why you shouldn't test this mono-synth in your productions!
Monolit sounds great, it's light, and it's free!
Keep scrolling to find out how to get it for free!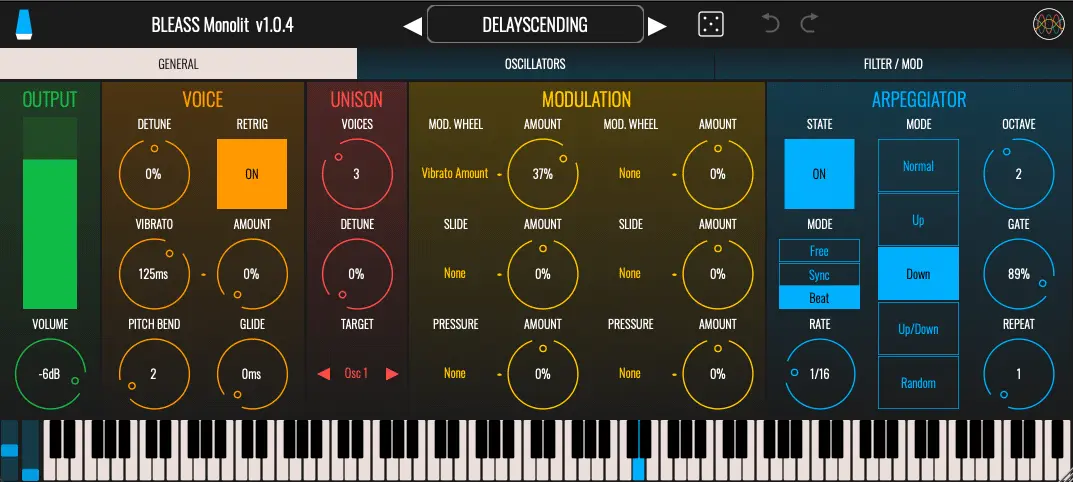 How to Free Download BLEASS Monolit
Add Monolit to the cart.
At the cart click on "PROCEED TO CHECKOUT".
Finalize the order at checkout.
You will receive an email from BLEASS with the subject "Your BLEASS product license(s)".
Inside the email you will find the serial code, the free download link and further instructions on how to redeem your free copy of Monolit.
Done! Enjoy your new mono-synth! ✌??
Published on

June 22, 2022