Published on

March 21, 2023
As a music producer, finding high-quality plugins that don't break the bank is always a priority.
That's why I was thrilled to come across Magix's latest offer – the coreFX VolumeFormer audio effect plugin for Mac and Windows, available as a free download until April 2nd (regularly $24.99). If you're looking for a simple and efficient way to add a "pump" effect to your tracks, this is definitely worth checking out.
In this blog post, we'll take a closer look at what the coreFX VolumeFormer plugin has to offer, and why it's a must-have for any music producer looking to enhance their sound.
About CoreFX VolumeFormer by MAGIX
The coreFX VolumeFormer plugin is a unique audio effect that allows you to create the famous "pump" effect without the need for complicated sidechain routing. By rhythmically reducing and increasing the volume of your tracks, you can create a gate or sidechain effect that's commonly found in genres like house, EDM, rock, and pop.
What makes the coreFX VolumeFormer plugin so special is its ability to adjust the shape of the envelope (the decrease and increase) as well as the modulation frequency. This gives you complete control over the effect and allows you to customize it to match the beat of your track.
One of the best things about the coreFX VolumeFormer plugin is how easy it is to use. Forget about complex tutorials for sidechain routing in your DAW – simply modify bar grids or AHR (Attack/Hold/Release) envelopes the way you want and integrate the classic pump effect into your productions.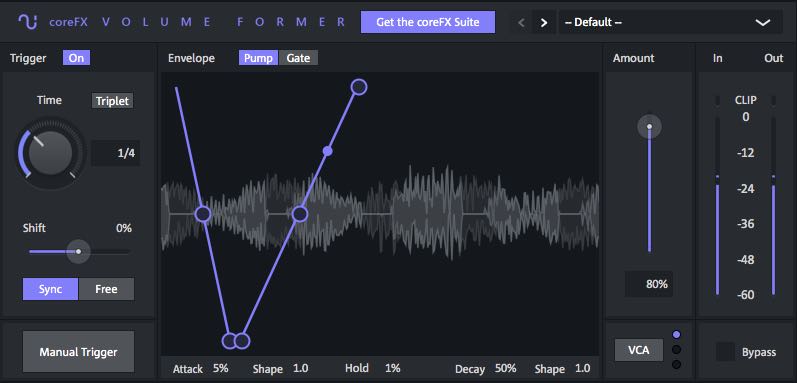 The plugin is compatible with most modern genres of electronic music, including house, trance, and trap, making it a versatile tool for any producer.
In terms of technical specifications, the coreFX VolumeFormer plugin is supported by both Windows (Microsoft Windows 10 – 11) and Mac (OS X Sierra 10.12 – macOS 10.15 Catalina) operating systems. The plugin is available in AAX (64-bit), AU, VST2, and VST3 formats.
On my Youtube video I show this plugin in action. I made 2 beats with it: a Future Bass and a Dark Hip Hop. If you haven't seen it yet, check out the video in this post.
I also made available the Serum preset I made for the Future Bass beat. If you want to download it you will find the link below this post.
Free Download CoreFX Volumeformer and Xfer Serum Preset
Conclusion
Overall, the coreFX VolumeFormer plugin is a fantastic tool for any music producer looking to enhance their sound and add a classic "pump" effect to their tracks. And with the limited time offer of a free download until April 2nd, there's never been a better time to give it a try. So head over to the Magix website and download your copy today!
Published on

March 21, 2023