Published on

May 24, 2023
A few months ago, I purchased a new desk for my small studio, and I wanted to share my honest review with you. In this article, I'll discuss why I opted for a studio desk over a classic desk and delve into the features and functionality of the Thomann ComboDesk 61, designed by Zaor.
Why I chose a Studio Desk
The studio desk serves as the centerpiece of every producer's creative space. It should provide comfort, fit the room perfectly, and promote a neat and organized workflow with everything within arm's reach. That's why I decided to invest in a proper studio desk, rather than opting for a generic desk like those from Ikea or similar brands.
Thomann ComboDesk 61 – The Perfect Fit
For my square-shaped room, I needed a compact studio desk that could accommodate all my music tools without breaking the bank. After days of research, I came across the Thomann ComboDesk 61, designed by Zaor, and it seemed like the perfect solution for my needs. Not only does it offer functionality, but it also boasts an appealing design.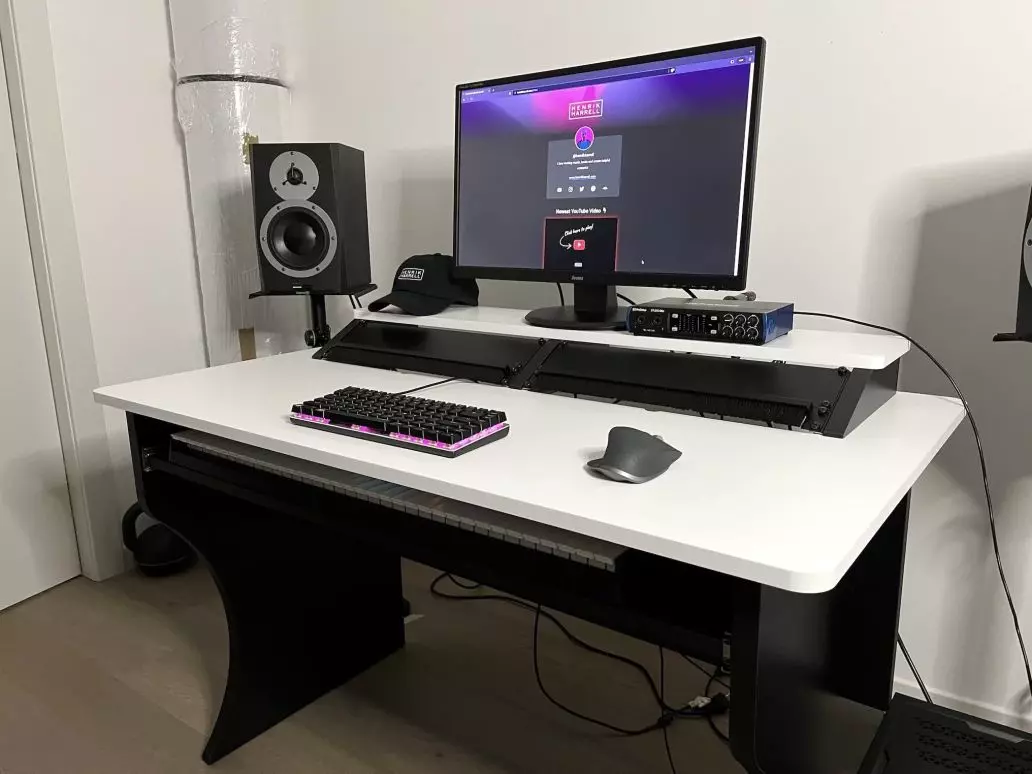 Thomann ComboDesk 61 in my Studio
One of the standout features I appreciate about this desk is the dedicated drawer for my MIDI keyboard. It allows me to quickly access it whenever I need it, without cluttering the workspace. Additionally, the ComboDesk 61 provides a 6-unit rack space, which I plan to utilize for my analog gears in the future.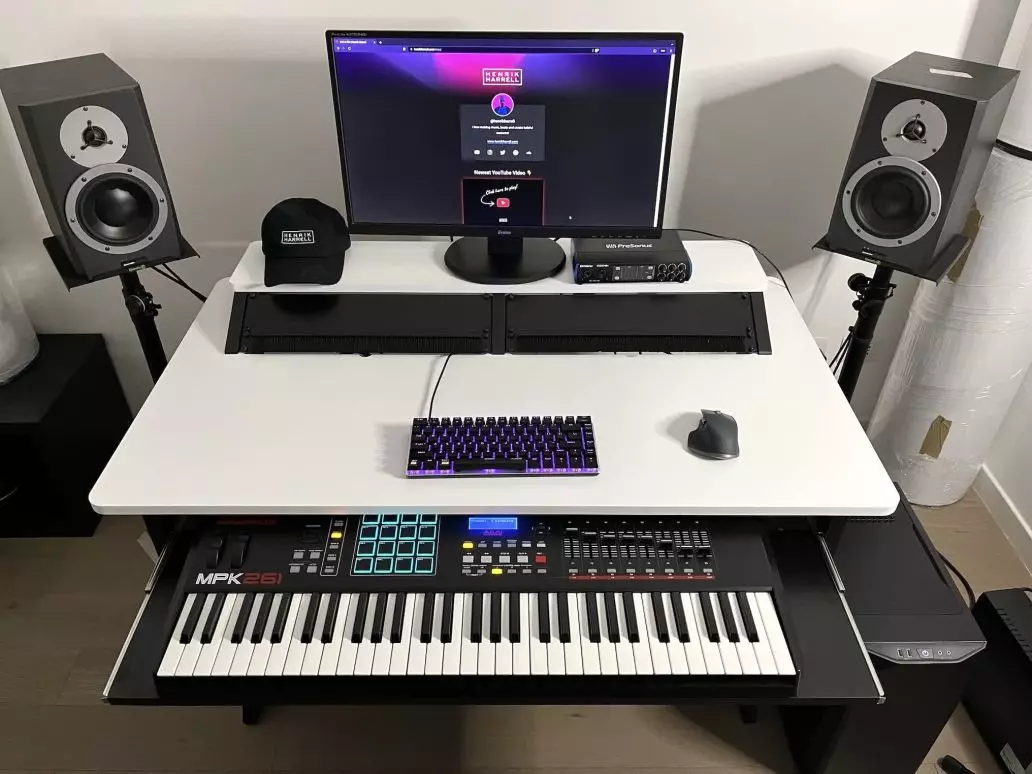 Enhancing the Aesthetics
To further enhance the desk's appearance, I opted for a bundle deal that included rack panels to cover the empty rack spaces. These panels not only make the desk look cleaner and more organized but also offer a discount of up to 6% when purchased together with the desk on Thomann's website.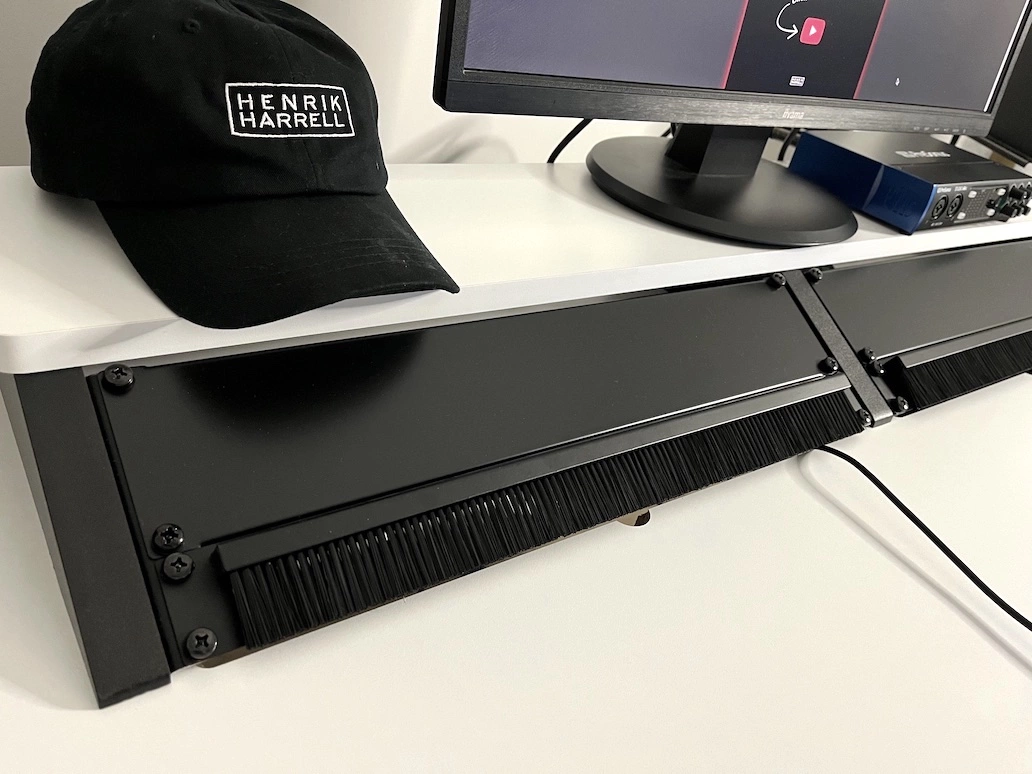 The Desk Top
The desk top of the ComboDesk 61 is sturdy and doesn't wobble at all. However, if I were to nitpick, I found the edges to be a bit too sharp for my liking. To address this issue, I purchased an edge protector strip made of soft silicone from Amazon, which solved the problem and provided a more comfortable workspace.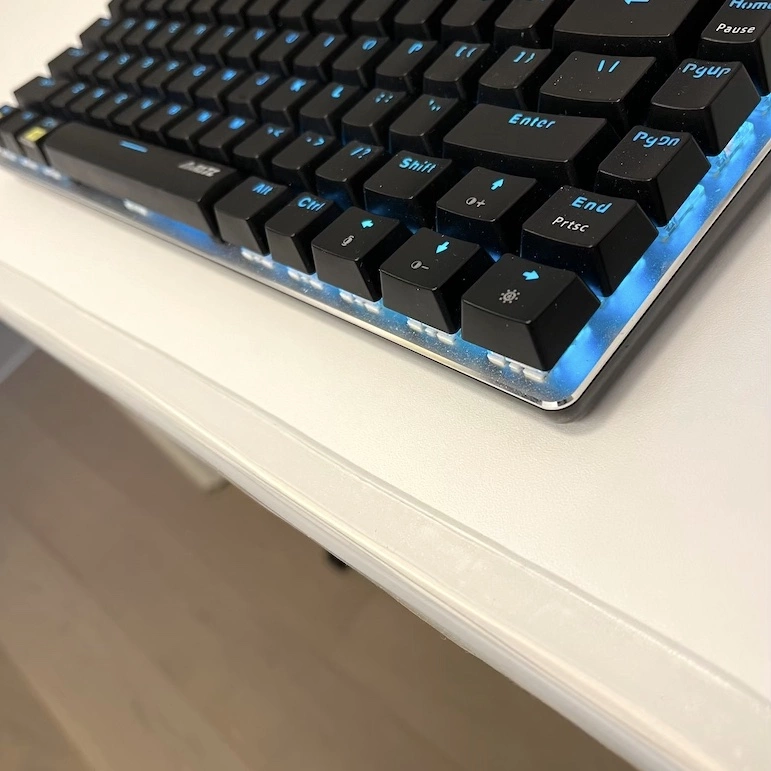 Keyboard Drawer
The keyboard drawer of the ComboDesk 61 has dimensions of 1050mm x 300mm. However, I had to remove a piece at the back to accommodate my Akai MPK261, as it didn't fit initially.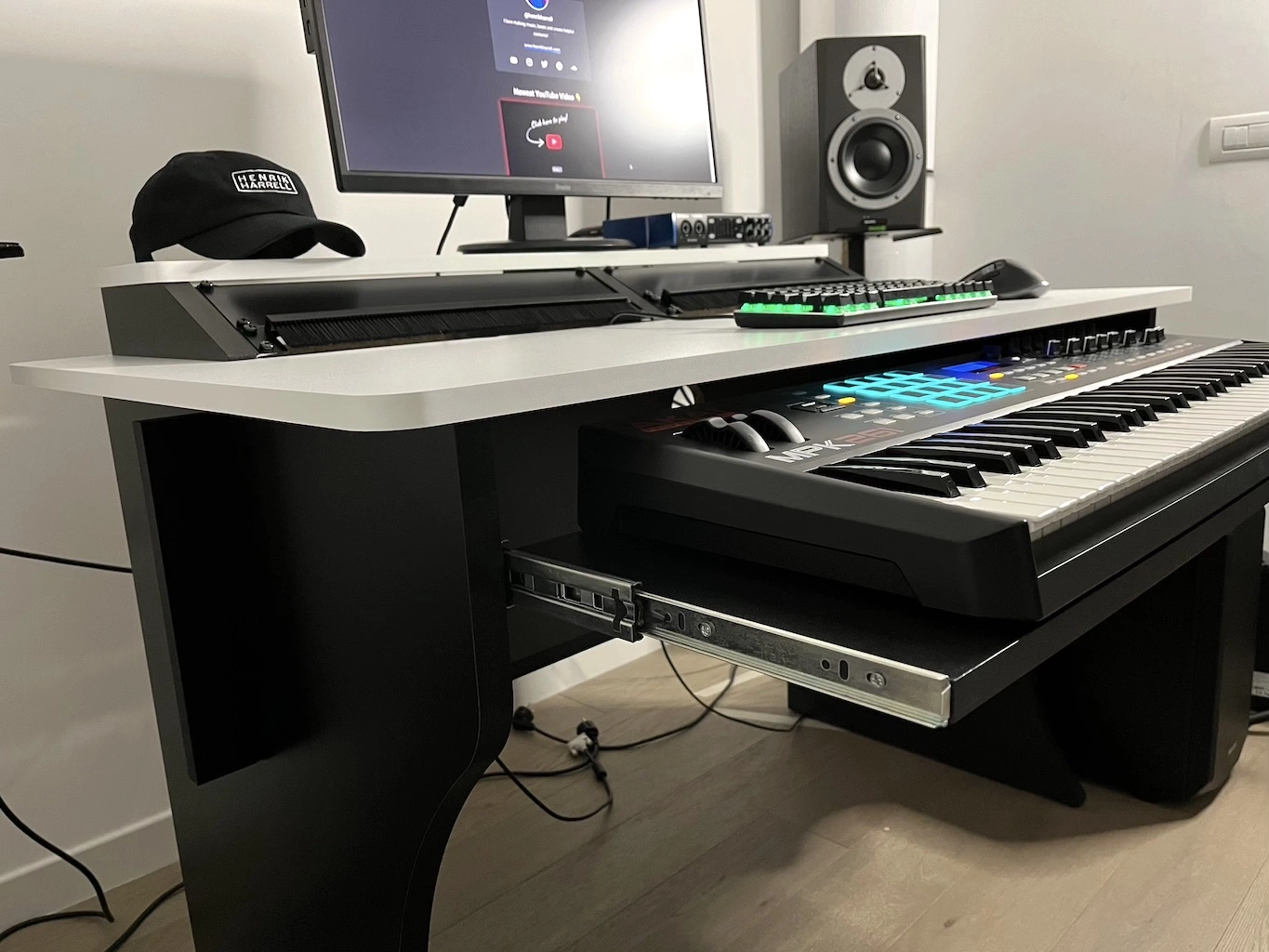 Even then, the USB cable proved to be too long and hit the desk structure when I pushed the drawer back in. To resolve this, I purchased a right-angle Type-B male USB cable, which solved the cable management issue and allowed smooth operation of the drawer.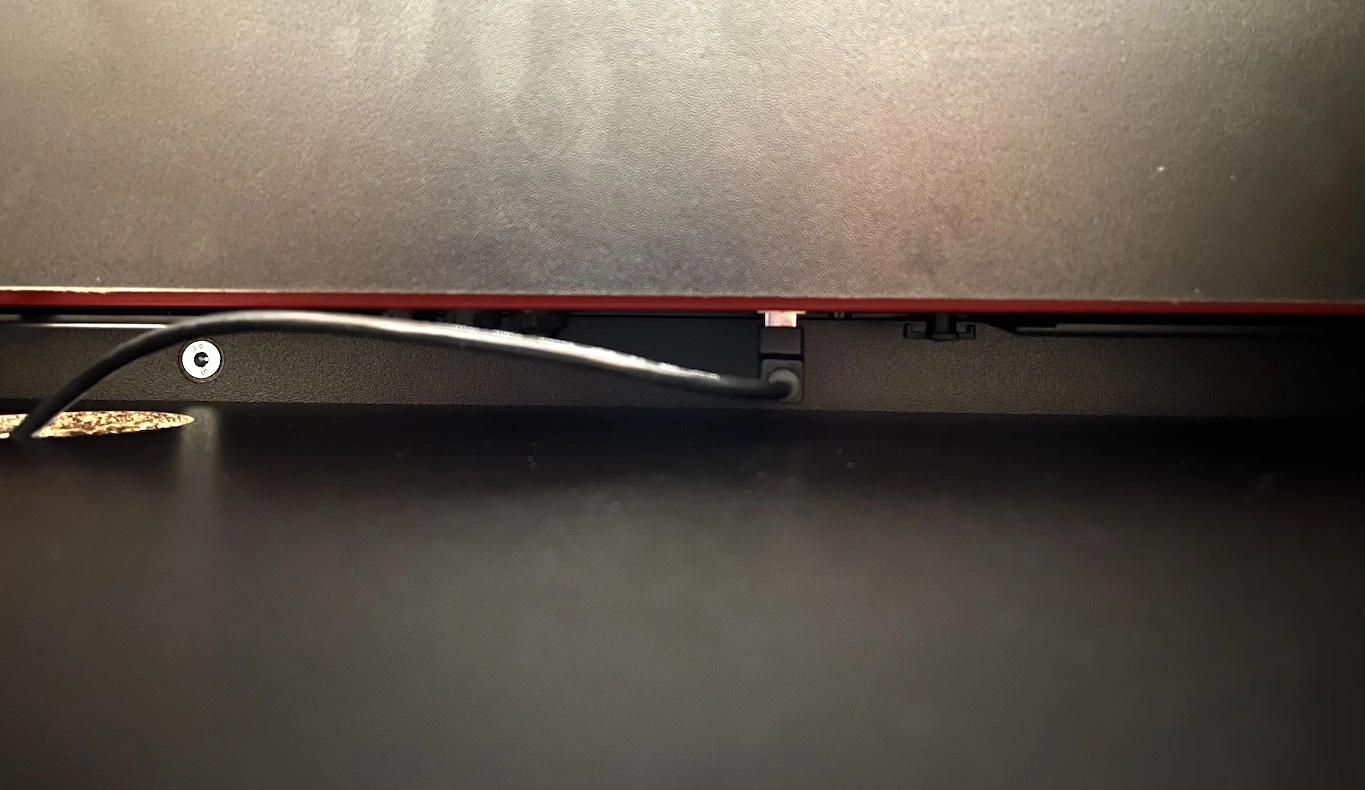 Cable Management
As any musician or producer knows, cable management can be a nightmare in a music studio. Fortunately, the ComboDesk 61 comes with built-in cable management features. It includes straps on the back to keep all the cables organized and out of the way, preventing tangles and ensuring a clutter-free workspace.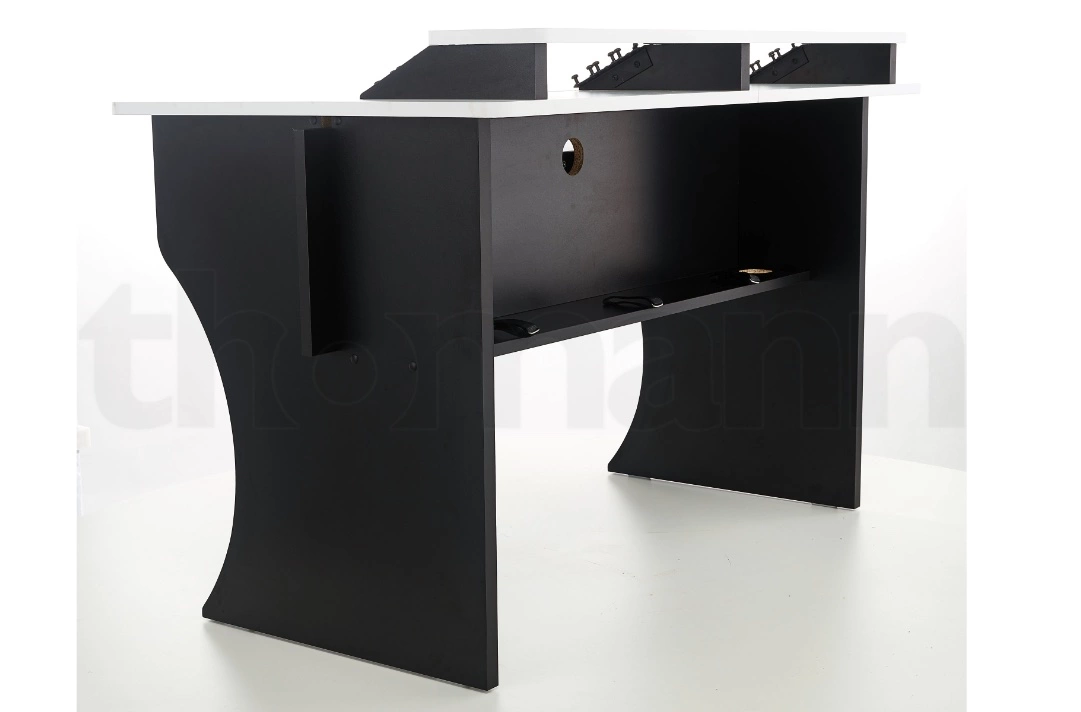 Where to get the ComboDesk 61
I purchased the Thomann ComboDesk 61 directly from Thomann's website, and the delivery was prompt, arriving in just a few days. As expected, Thomann's service was excellent, and their support team was readily available to assist with any queries. If you're interested in buying this desk, I highly recommend considering the bundle deal, although you can also purchase the desk alone if the additional elements are not needed.
For more details about the Thomann ComboDesk 61 and to make a purchase, you can visit Thomann's official website. There, you'll find comprehensive information about the desk's specifications, pricing, and any ongoing promotions.
Investing in a quality studio desk like the Thomann ComboDesk 61 has truly elevated my music production experience, providing a comfortable and organized workspace. If you're looking to enhance your studio setup, I highly recommend considering this desk as a valuable addition.
Share your thoughts and questions in the comments below, and let's create an engaging discussion about this fantastic desk.
Thanks for reading, and Happy music-making!
Published on

May 24, 2023