Published on

March 2, 2023
Autotune has become a staple effect in modern music production, from subtle pitch correction to the famous "Auto-Tune" effect made popular by artists like T-Pain and Kanye West. While there are many paid autotune plugins available, there are also some great free options that can help you achieve the sound you're looking for without breaking the bank. In this post, we'll take a look at some of the top free autotune VST plugins available for music producers.
Graillon by Auburn Sounds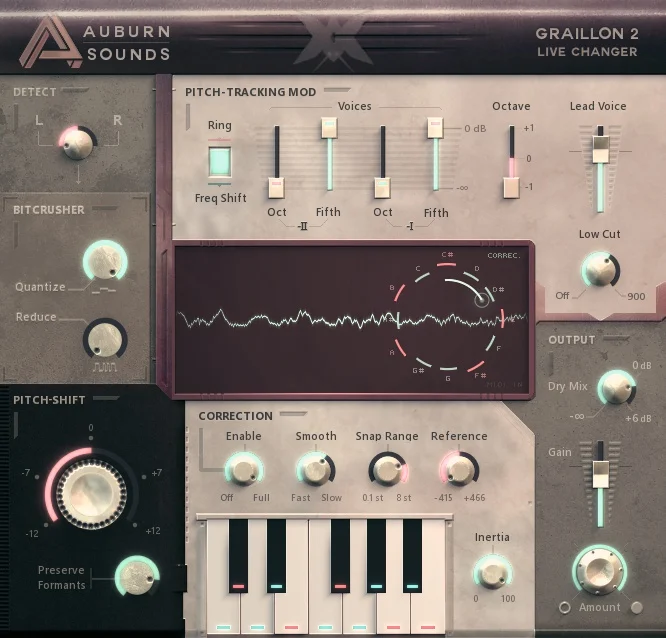 Graillon 2 by Auburn Sounds is a versatile pitch correction plugin that has earned the top spot on many lists of free autotune plugins. It boasts an efficient and easy-to-use pitch correction module that is compatible with all major digital audio workstations on Windows and macOS.
One of the standout features of Graillon 2 is its flexibility, allowing users to achieve both natural and artificial sounds depending on their stylistic preferences. The mix knob on the user interface also provides users with the ability to reduce the autotune module's impact where necessary.
For those looking to experiment further, Graillon 2's pitch shifter module can be used to produce unusual-sounding vocals using its pitch correction algorithm. Users can even mix the dry vocal with the autotuned signal for a unique chorus-like effect. Alternatively, users can add pitch shifting with preserved formats to thicken vocals, adding depth and slightly correcting pitch at the same time.
Overall, Graillon by Auburn Sounds is a great option for music producers who want to achieve creative autotune effects without breaking the bank.
Download Link: Graillon 2
MAutoPitch by MeldaProduction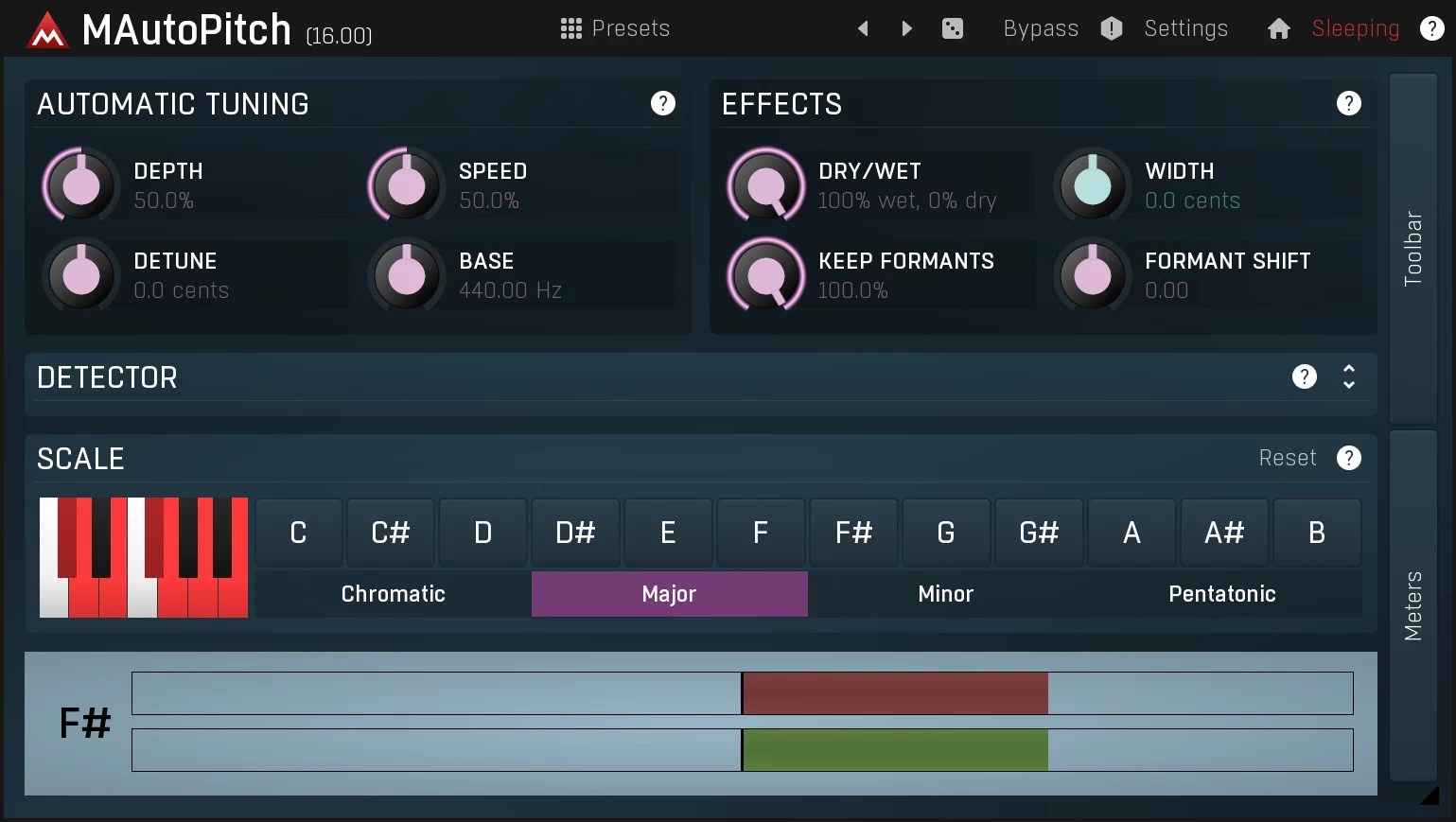 MAutoPitch by MeldaProduction is a free autotune plugin designed for vocals and other monophonic instruments. It offers automatic tuning and pitch correction capabilities, as well as creative features such as formant shift and stereo-expansion.
One of the main benefits of MAutoPitch is its ease of use. The plugin is straightforward and intuitive, allowing users to quickly dial in the desired pitch correction and creative effects. Additionally, MAutoPitch is compatible with all VST and AU plugin hosts on PC and Mac, making it accessible to a wide range of music producers.
While MAutoPitch is a great free option, it does have its drawbacks. The plugin's installer can be cumbersome, as all of MeldaProduction's freeware plugins are packed into a single installer file. This can result in longer download times and a somewhat cumbersome installation process. Additionally, MAutoPitch's pitch correction capabilities may not be as nuanced as some of the paid options on the market.
Overall, MAutoPitch is a solid choice for music producers looking for a free autotune plugin. Its ease of use and compatibility with multiple plugin hosts make it an accessible option, while its creative features allow for unique and interesting vocal processing.
Download Link: MAutoPitch
TrapTune Free Version by United Plugins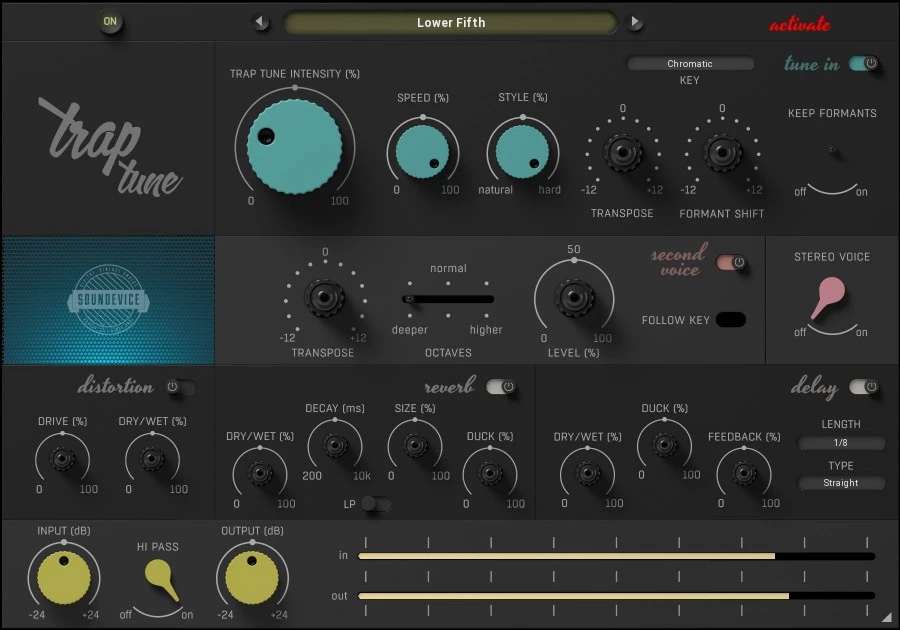 TrapTune Free Version by United Plugins offers a quick and efficient autotune plugin that comes with a range of presets to choose from. Although some of the pitch correction controls are locked, users can still adjust the pitch correction intensity, speed, and character to suit their needs.
One of the standout features of the free version is its ability to load presets and settings from the full version of TrapTune. This makes it easy to share projects with others or use sessions created with the trial version.
In addition to pitch correction, TrapTune Free Edition includes vocal-processing effects like distortion, reverb, and delay. These effects allow producers to add depth and character to their vocal tracks, giving them a unique and professional sound.
Overall, TrapTune Free Version is a great option for producers who need a quick and easy autotuning effect without the hassle of complex controls. Its range of presets and vocal-processing effects make it a versatile tool for any producer's toolkit.
Download Link: TrapTune Free Version
Voloco Plugin by Resonant Cavity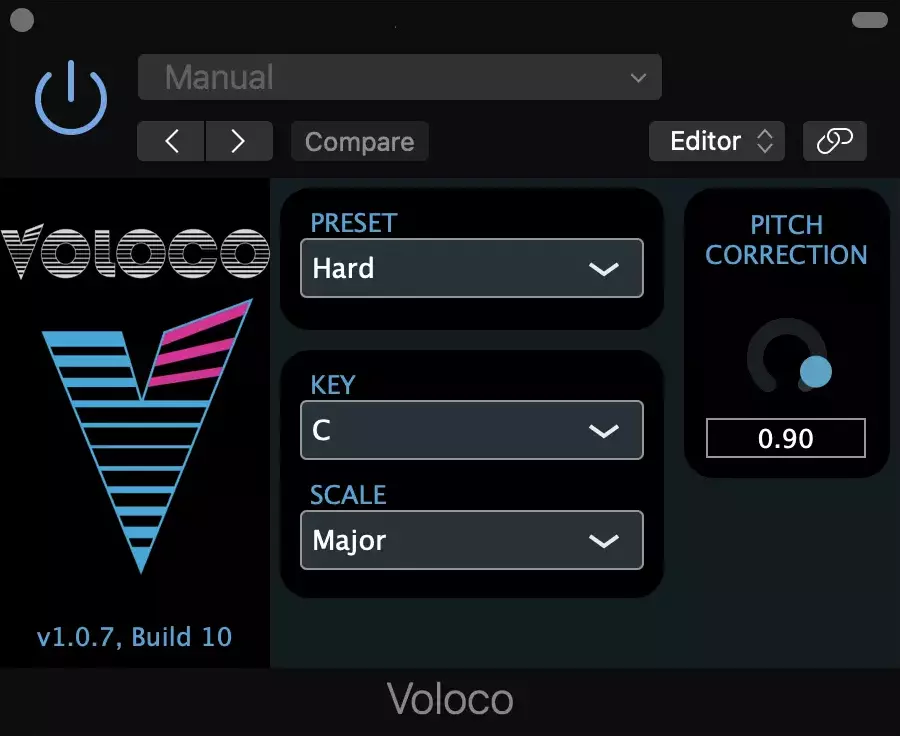 Voloco Plugin by Resonant Cavity is a powerful autotune plugin that can be downloaded as a VST3 or AU plugin for free. While it is still in the public beta phase, it may not always work the way you want it to. It does, however, give you many different options for key, scale, and pitch correction. The plugin can be used with sample rates ranging from 24k to 96k, providing flexibility for users to work with their preferred sample rates.
While the free version of Voloco only has a few vocal presets, it is still a good tool for people who need quick and easy autotuning. The professional version of the plugin is currently in development, promising to bring even more advanced features and functionality to the table.
If you encounter any stability or compatibility issues with Voloco, the Resonant Cavity team is eager to hear feedback from users. This commitment to ongoing development and improvement ensures that Voloco will continue to be a useful tool for music producers and vocalists alike.
Download Link: Voloco Plugin
Logic Pitch Correction by Apple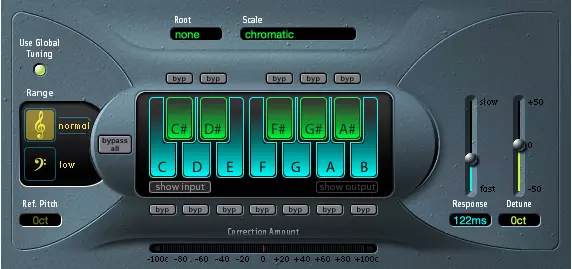 Logic Pitch Correction is a versatile and lightweight plugin that is exclusive to Logic Pro users. The plugin's simple workflow allows you to set the key of your vocal performance and correct to the correct key from the set of possible notes. Additionally, the plugin features a "show input" option, which allows you to see what notes your un-tuned performance is hitting and quickly identify unwanted sounds.
Although Logic Pitch Correction may not have the advanced features of other vocal tuning plugins, its light CPU usage allows you to run multiple instances at the same time, even on under-powered computers. This is particularly useful when creating vocal stacks or when you need a quick tuning pass for a vocalist to record doubles.
Furthermore, the plugin's response time can be adjusted to create the recognizable Auto-Tune warble, adding a unique character to your vocals. All in all, Logic Pitch Correction is an easy-to-use plugin for Logic Pro users, and it makes vocal tuning easier and more reliable in the long run.
Keep in mind this is available only fro Mac users with Logic Pro.
Download Link: Logic Pro
Beat Lab Autotuna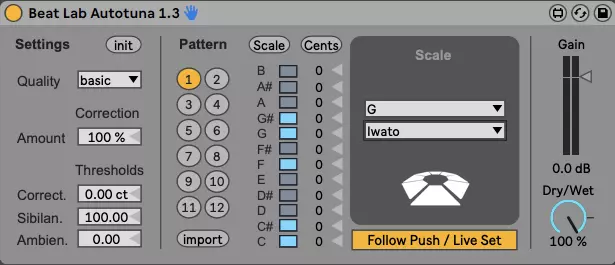 Beat Lab Autotuna is a free Max for Live device that offers a unique approach to vocal tuning. Originally released as part of the Max 7 Pitch and Time Machines pack for Ableton Live 9, it has been enhanced by the Beatlab Academy team to provide an even more powerful tuning experience.
With Autotuna, you can set the overall scale of your vocal performance and adjust the tuning of individual notes by a specified number of cents. This allows for a more natural and organic tuning effect, perfect for achieving that "perfectly imperfect" sound.
Autotuna is a great choice for producers and musicians who want a simple and intuitive vocal tuning plugin that integrates seamlessly with Ableton Live. Check out the video to see Autotuna in action and head over to the Beatlab Academy website to download it for free.
Keep in mind this will work only with Ableton Live.
Download Link: Beat Lab Autotuna
Conclusion
In conclusion, there are many high-quality free autotune plugins available that can help music producers achieve professional-sounding vocals. While paid autotune plugins may have more advanced features, these free options can be a great starting point for those on a budget or just getting started with autotuning.
Have you tried any of these plugins? Or do you have a favorite free autotune plugin that wasn't mentioned? I'd love to hear your thoughts and experiences in the comments below.
Published on

March 2, 2023